Product Description
Model NO.: HC001 Automation: Automation Processing Material: Cotton, Wool ,Blending Warranty: 12 Months Condition: New Power Supply: Customized Specification: double size, single layer HS Code: 8445300000 Type: Winder Machine Spinning Method: Ring Spinning Producing Process: Spinning Equipment Customized: Customized Merge Strands: 2-3 Strands Trademark: DEEDO Origin: Jiangsu, China Production description
HC001 PRECISE ASSEMBLY WINDER MACHINE
For requirements of both low cost and high quality, doubling is an indispensable process in the yarning weaving industry. Usually, single yarn cannot meet the products' requirements. So, we must adopt twisting to produce plied yarn. "Excellent doubling can help enhance output and quality of twisted yarns". The final purpose of twisting process is to produce high quality products. Use of inferior products will result in higher cost risk in the downstream processing procedures. 
Different winding system used in doubling 
Random winding
When groove drum is used for doubling, it does not make the package density reach the maximum according to the rule of random winding process. Secondly, as this kind winding may easily cause yarn to overlap (it means that when the winding rate is inappropriate, the yarns will pile up), it will result in poor reversing in two-for-one twister machine. Especially, when we process fine yarns, this phenomenon will be more serious.  
Digital winding
By making digital winding, relatively high density can be acquired. By adopting digital winding (stepped precise winding), can have the function of improving density. 
In addition, high density acquired from the use of digital winding can help to realize the maximum yarn amount stored in the twisting spindle. The other meaning of this winding process is to fully eliminate overlaping of yarns and to make the yarns reversing smoothly from the spindle.  
When producing coarse and low-twist yarn, the other advantage of digital winding will stand out, which isavoid twist contraction. During the whole winding process, it can keep a small yarn crossing angle. 
Precise winding 
When adopting precise winding process, the maximum package density will be acquired. Moreover, its winding system has an excellent reversing performance.  
As in precise winding, yarn gauge can be adjusted according to the optimal density mode. Therefore, density of precise winding is higher 25% than that of   random winding. The density is also higher than that of digital winding. Centralized electronic control can be adopted to make such an adjustment. So, it is especially applicable to fine yarn winding. 
In the recent market, most assembly winder machine adopt groove drum to guide yarn. 
HC001 Precise Assembly winder Machine is a new generation assembly winder machine according to the current market condition. It adopts the latest technology of electronic guiding yarn and can be used for tight doubling of spandex and short fiber yarn. It can guarantee good reversing during the process of twisting. The main features are as follows.
It adopts the technology of electronic yarn guide and has the function of precise winding and digital winding. It can produce packages precisely in order to meet the requirements of all packages and maximize the density of doubling bobbin package and the winding length in the limited capacity. Moreover, it has excellent reversing performance.
The yarn guiding traverse can be set as required.
The flexible back pressure system can set an extremely extensive range of back pressure in order to maximize the package volume.
All functions of HC001 Precise Assembly Winder Machine are managed via a control terminal which is installed in control box on locomotive. Various process parameters required by the bobbin production can be set via controlling the terminal. Moreover, during production, real-time monitor and data statistics will be conducted.
Different spindle positions of machine can be both collectively set and independently operated.Different yarns can be processed at the same time on the same machine. It is efficient and flexible.
Length setting and diameter detection: make real-time measurement of the package length and package diameter. You can set the automatic stop of length or parameter.
Spandex doubling device
Spandex doubling process
We developed a spandex assembly winder machine. The doubling package can be used on common two-for-one twisting machine to produce low-cost elastic twisted yarn. The assembly winder machine which processing elastic yarns has adjustable traverse process and the optimal non-overlap winding. Compared with the spandex assembly winder machine on market now, it has the following features.  
1.  Active reversing of the spandex package. When doubling with short fiber yarn or filament yarn together, the spandex can be doubled in the accurate draft ratio. 
2.  High doubling speed and high production efficiency. 
3. It adopts direct motor to drive the spandex. No oil soiled yarn can be produced. The post-processing cost can be reduced. The product quality can be enhanced.  
Technical Parameters
Suitable raw material
Cotton and wool short fiber yarns
or Cotton,  wool short fiber yarns and spandex
Yarn count range
10-3000 dtex  Ne3-80 (Nm5-135)
Feeding yarn diameter
Maximum: 280 mm
Full package weight
Maximum: 5kg
Spindle arrangement
Single side arrangement
Transmission device
Single spindle
No. of spindles / section
5 spindles (or 4 spindles)
No. of spindles and No. of sections
Minimum: 5/1(4/1)    Maximum: 60/12(60/15)
Spindle gauge
366mm
Section length
1944mm
Winding mode
Digital winding, precise winding
Package mode
freely programmable
Bobbin type
Minimum diameter of empty bobbin:  Inner diameter 38mm      Outer diameter 43mm
Minimum diameter of the
Empty bobbin
Inner diameter 43 mm, outer diameter 47mm
Length of empty bobbin
170mm
Take up diameter
280mm
Traverse length
50-170 mm
Mechanical speed
Maximum 1500m/min (the technical speed depends the yarn and the technical parameters)
Supply frequency
50/60Hz
Installed power per spindle
0.25kW
Actual power consumption
per spindle
0.05-0.10 kW (different according to the process)
Dust cover and cooling fan power
2.2kW
Travelling cleaner Power (optional)
1.1kW
Environment conditions
Air temperature 10-40ºC
Relative humidity (no condensate water) 50%-75%
Option
Travelling cleaning device: choose when processing short fiber yarn
Spandex doubling device
Size chart
| | | | | | | | | |
| --- | --- | --- | --- | --- | --- | --- | --- | --- |
| No. of sections | 1 | 2 | 3 | 4 | 5 | 6 | 7 | 8 |
| No. of spindles (5 spindles/section) | 5 | 10 | 15 | 20 | 25 | 30 | 35 | 40 |
| No. of spindles (4 spindles/section) | 4 | 8 | 12 | 16 | 20 | 24 | 28 | 32 |
| Total length L (mm) | 3444 | 5388 | 7332 | 9276 | 11220 | 13164 | 15108 | 17052 |
| No. of sections | 9 | 10 | 11 | 12 | 13 | 14 | 15 |   |
| No. of spindles (5 spindles/section) | 45 | 50 | 55 | 60 |   |   |   |   |
| No. of spindles (4 spindles/section) | 36 | 40 | 44 | 48 | 52 | 56 | 60 |   |
| Total length L (mm) | 18996 | 20940 | 22884 | 24828 | 26772 | 28716 | 30660 |   |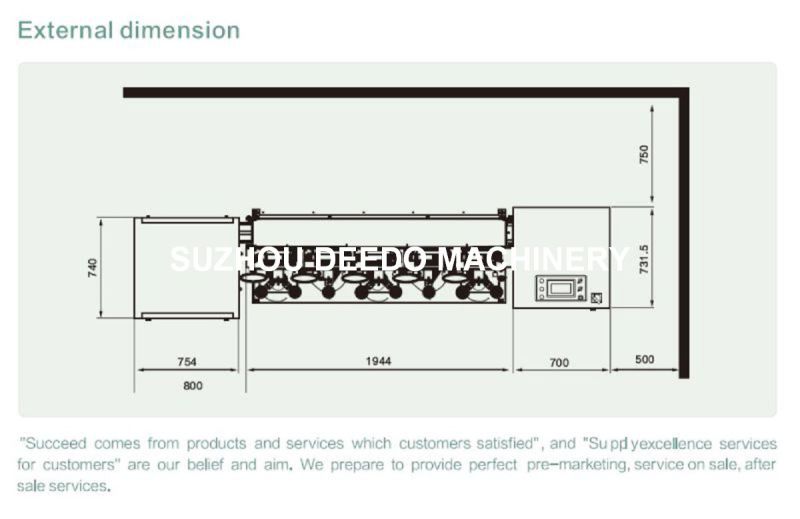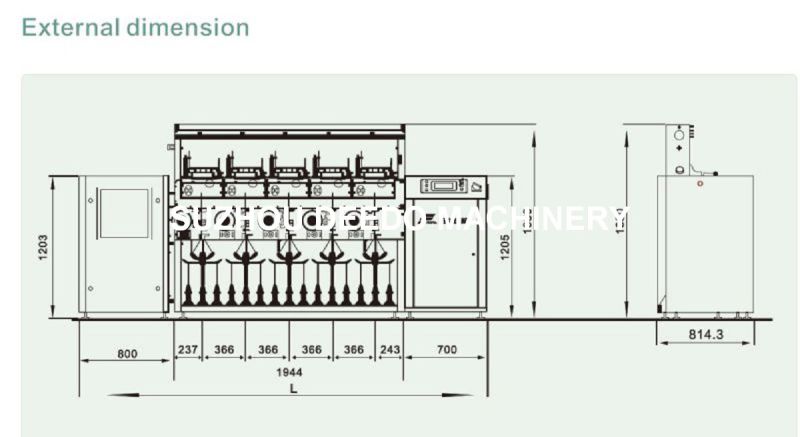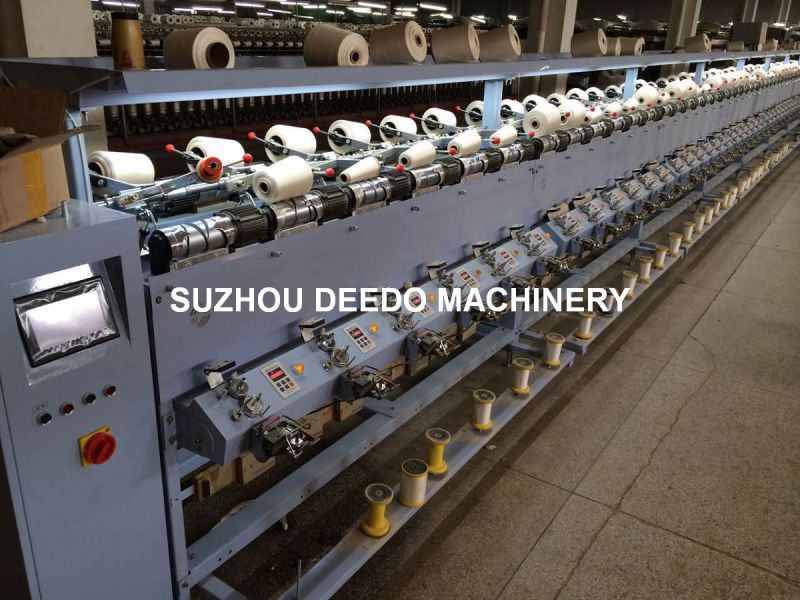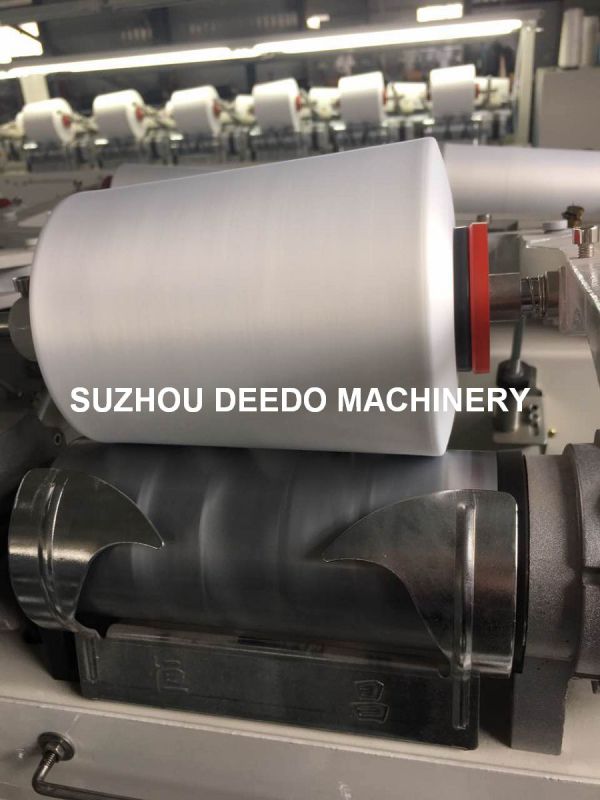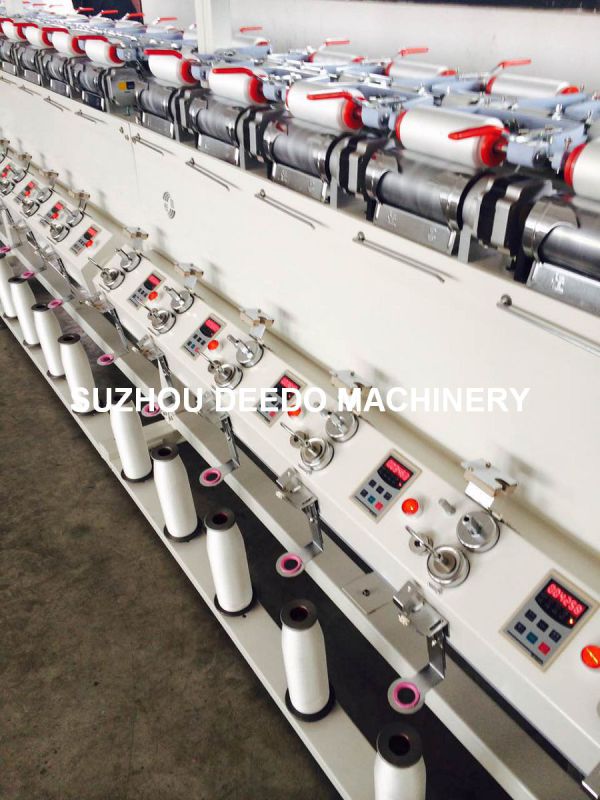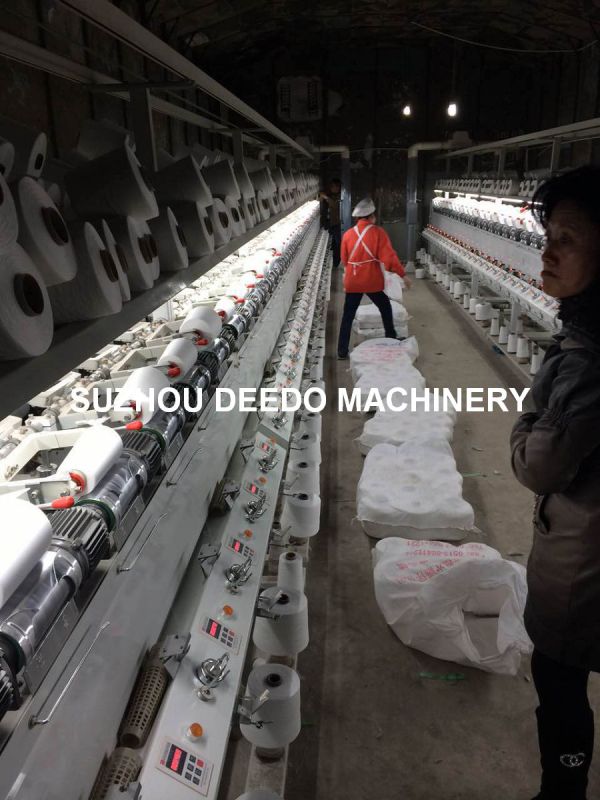 If you are interested in this machine,please  contact me directly by email or phone:
my mob:+008613526472647
  Contact us if you need more details on Tank Cylinder. We are ready to answer your questions on packaging, logistics, certification or any other aspects about High Speed Winding Machine、Precise Winding Machine. If these products fail to match your need, please contact us and we would like to provide relevant information.
Product Categories : spinning machinery